Mill
Talk

0
481pages on
this wiki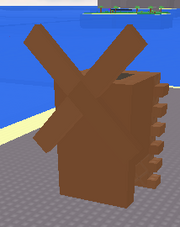 A
Mill
is one of the most important buildings in Survival 303, required to produce
Bread
, an important food that can be easily made in bulk. The Mill is a small wooden tower with a windmill on one side,a ladder on another side, an opening in the top, and another opening at the bottom. When a
wheat bundle
or
corn
is placed in the top opening, it falls through and wheat bundles are transformed into
Flour
and corn into
Corn Meal
, which appears at the bottom opening. Flour is an important ingredient in
Pies
, Bread and
Corn Bread
, and Corn Meal is used in Corn Bread, hence the name. A mill is crafted from 2
Walls
and 1
Large Leaves
, crafted into a tool. Despite featuring leaves in its recipe, the Mill is the only building that does not feature leaves as part of its design. Wooden
Huts
and
Granaries
both feature leaves as part of their design, but not the Mill, which shares their recipe.
A mill required a Carpentry skill of 3 to craft, and no Architecture skill.
Many newbies jump in mills, but they are not affected by the script. However, the mill must be retooled or burned if they want to get out.
A lumbermill looks very similar to a mill, but it has a small wooden part on the side where wood slides.
There is a mill included in the Bakery, but the base is made of stone. The spinners are still made of wood.
| Mill Stats | |
| --- | --- |
| Recipe | Wall + Wall + Large Leaves  > Create Tool > Mill |
| Skill | 3 Carpentry |
| Use | Grinding wheat bundles |
| Flammable Parts | All, including the ladders, too. |
| Etc. | It is not known whether the mill explodes when too many wheat bundles are added in. This is the simplest building you can make along with the Hut and Granary. |
Gallery