Welcome to the Survival 303 Wiki!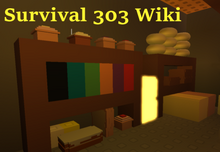 Survival 303 is a game on Roblox created by The 303 Dev Team. You start on one of three islands, with a total of twenty-two islands to survive, forage, and hunt on.
The major goal of the game is to survive for as long as possible, but it isn't that simple, as other players will try to take your food and resources, burn your home, conquer your island, and kill you, and to survive you will need to craft tools, weapons, and settle tribes.
A tribe may help you survive raider groups, but be warned; food, water, and resources deplete more quickly with a large tribe than with a lone survivor or two, but organized tribes with individual jobs per member could survive for a very long time.
Good luck surviving.
To see the official rules of Survival 303 please click the link here
——— Version v2.8.7.3 BL ———
Major highlights:
Fixed liquids not giving back their glass cups upon consumption
Fixed the haunted bush on Flax Island
Added recipes to convert gold coins into copper coins at a 1: 5 ratio, and vice versa, craftable at a golden table.
Fixed the recipe for Glowfruit pie
Fixed a glitch with Phei's boulder
Removed leather shorts from the game
Added a recipe for a sack of gold, current holds 5 gold coins, craftable at a golden table.
Added a Sandstone slab
Added a Paving stone [2,1,2 Stone Brick]
Made the Churn easier to fireproof [also made the churn less buggy?]
Fixed Golden Table being anchored
Fixed Churn Being anchored